Researching the politics of development
People

Dr Mirza Hassan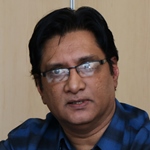 Role
Mirza Hassan is a political economist currently working as a Lead Researcher based at the BRAC Institute of Governance and Development (BIGD), BRAC University. He is the country co-ordinator for Bangladesh for ESID and also the principal researcher for the following projects: a) Political settlement and social provisioning: a comparative analysis of Bangladesh and Ghana and b) Politics of economic growth.
Research
Mirza's research focuses on political development, state-business relations, politics of service delivery and institutional analysis of justice sector and human rights, in South Asia, the Pacific region and North Africa. For ESID, Mirza is researching quality in provision of primary education in Bangladesh as part of a comparative project with Ghana. He is also part of ESID's research on state-business relations under the politics of growth theme. Along with Prof. Selim Raihan, he is conducting a political economy analysis of the politics of growth, and how business actors negotiate with the state in Bangladesh, focusing on several economic sectors.
ESID publications
Hossain, N., Hassan, M., Rahman, M. A., Ali, K. S. and Islam, M. S. (2017). The problem with teachers: the political settlement and education quality reforms in Bangladesh. ESID Working Paper No. 86. Manchester.
Hassan, M. (2013). 'Political settlement dynamics in a limited access order: the case of Bangladesh', ESID Working Paper No. 23. Manchester.
Other recent publications
Hasan, M. and Nazneen, S. (2017). 'Violence and the breakdown of the political settlement: An uncertain future for Bangladesh?' Conflict, Security & Development 17(3): 205-223.
Hassan, M. and Pritchard, W. (2016). 'The political economy of domestic tax reform in Bangladesh: Political settlements, informal institutions and the negotiation of reform', Journal of Development Studies 52(12): 1704-1721, Special Issue on the Politics of Taxation.
Hassan, M. and Pritchard, W. (2013). Negotiating the politics of tax reform in Bangladesh, ICTD working paper 14, University of Sussex, UK.
Other roles
Mirza has extensive experience as a consultant for the World Bank, DFID Bangladesh, DFID Sudan, SEDF, the Asia Foundation (Bangladesh and USA), OECD, the Policy Practice (UK), Atos Consulting (UK), One World Action (UK) and UNDP. Mirza is also on the board of the following rights-based organisations: Bangladesh Legal Aid Services Trust (BLAST); and Nagorik Uddoyog.
Further information
Listen to Mirza Hassan talking about comparative research:

Mirza is also a documentary filmmaker, and has made several features, including the following on ready-made garment (RMG) workers' rights and women's empowerment:
Tales of Freedom (part 1)
Tales of Freedom (part 2)
Tales of Freedom (part 3)