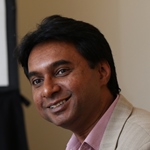 Role
Dr Selim Raihan is Professor at the Department of Economics, University of Dhaka and Executive Director at the South Asian Network on Economic Modeling (SANEM). He is working with Professor Kunal Sen on ESID's research project, The political economy determinants of economic growth.
Research
Selim has a range of research interests, including international, regional and domestic trade policy; poverty and inequality; labour market issues; and economic modelling: Computable General Equilibrium (CGE) models, GTAP models, Social Accounting Matrix (SAM) techniques, WITS/SMART partial equilibrium model, dynamic stochastic general equilibrium (DSGE) model, micro- and macro-econometric modelling. His ESID research is focussed on the analysis of economic growth, as well as the political economy analysis of growth and development.
ESID publications
Sen, K., Pritchett, L., Kar, S. and S. Raihan 'Democracy versus dictatorship? The political determinants of growth episodes', ESID Working Paper No. 70. Manchester, UK.
Kar, S., Pritchett, L., Raihan, S. and Sen, K. (2013). The Dynamics of Economic Growth: A Visual Handbook of Growth Rates, Regimes, Transitions and Volatility. ESID: Manchester, UK.
Kar, S., Pritchett, L., Raihan, S. and Sen, K. (2013). 'Looking for a break: Identifying transitions in growth regimes', Journal of Macroeconomics, Vol. 38, Part B.
Pritchett, L., Sen, K., Kar, S. and Raihan, S. (2013). 'Trillions gained and lost: Estimating the magnitude of growth episodes', ESID working paper No. 26, ESID: Manchester, UK.
Other recent publications
Raihan, S. (2013). 'The political economy of food price policy: The case of Bangladesh', WIDER working paper, WP/2013/002, UNU-WIDER, Helsinki.
De, P., Raihan, S. and Ghani, E. (2013). 'What does MFN trade mean for India and Pakistan? Can MFN be a Panacea?' Policy Research Working Paper 6483. World Bank: Washington DC.
Raihan, S. (2013). Employment effects of FTA Agreements: Perspectives from Bangladesh. International Labour Organization: ILO Country Office for Bangladesh.
Other roles
Selim is a Senior Research Fellow (Hon) at the University of Manchester. He has a long history of teaching international trade, economic modelling, quantitative economics, econometrics, development economics, and poverty dynamics at Dhaka University. Selim has also worked for a number of national and international organisations, including the Asian Development Bank, the World Bank, UNDP, UNESCAP, UNCTAD, IFPRI, the Commonwealth Secretariat, FAO, European Commission, ILO, IDRC and DFID.
Further information
View Dr Selim Raihan's SANEM profile.