Researching the politics of development
People

Dr Anna McCord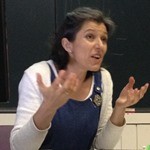 Role
Anna McCord is a sociologist with a PhD in economics and over 25 years experience working in international development. She is working on ESID's research into the political economy of social protection expansion in Africa, in Kenya.
Research
Anna is a research economist and sociologist, specialising in social protection programme design and evaluation, with a particular interest in programme impact at household level, public works and labour markets, and political economy. Anna has experience throughout sub-Saharan Africa, as well as South and Southeast Asia, having worked with a range of governments, major donors, UN agencies and non-governmental agencies. She has an MA from the University of Cambridge in Social and Political Science, a Diploma in Economics from the Open University, and a Masters and PhD in Economics from the University of Cape Town.
ESID publications
Wanyama, F. and McCord, A. (2017). 'The politics of scaling up social protection in Kenya'. ESID Working Paper No. 87. Manchester.
Recent publications
Slater, R., McCord, A. and Mathers, N. (2014). Guidance Note for DFID: Exploiting the Synergies between Social Protection and Economic Development. London: Overseas Development Institute.
McCord, A. (2013). 'The pursuit of public welfare: Analysis of the institutional context informing the extension of donor supported social protection in developing countries'. Paper prepared for the EC.
McCord, A. G. (2013). Public Works and Social Protection in Southern Africa: Do Public Works Work for the Poor? Juta Press/UNU.
Further information
View Anna's biography on the ODI website.