Researching the politics of development
Blog

Spotlight on an ESID Researcher: Kojo Asante
29th October 2015
 What is your background and how did you come to be at ESID?
I first came to the UK in 1998 to study law.  I qualified as a barrister, but after two years at a solicitor's practice I realised law wasn't for me. I did a Masters in African Studies in the US and then went back to Ghana. Since then I have worked as a Senior Policy Researcher at The Centre for Democratic Development (CDD). I work mostly on governance issues, decentralisation, electoral competition, anti corruption and civil society capacity building. After eight years at CDD I decided I wanted to get a PHD to build on my interests. In July 2012, I met Sam Hickey at a consultation meeting and he suggested I could do my PHD at ESID. I am currently here on study leave and am writing up my PHD.
What is most interesting about your work with ESID?
My research focuses on the politics of hydrocarbons.  I am working with Professor Giles Mohan to investigate oil  governance in Ghana and alongside Professor Sam Hickey and Angelo Izama to compare this with oil governance in Uganda. Together we're examining how underlying politics such as coalition building and elite commitment shape the governance processes that are emerging. My experience in Ghana tells me that there are so many deeper forms of politics going on that we don't understand. It is great that finally ESID is taking an interest in that. Ghana is close to my heart and I think oil has such a great prospect for social and economic transformation. To be able to participate in something that can make a contribution excites me.
What are some of the key challenges for inclusive development in Ghana?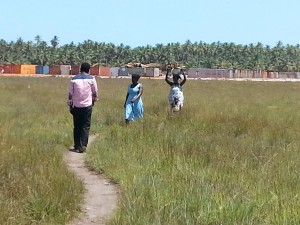 Politics, and more specifically electoral competition, is the biggest challenge. Politicians chase voters to retain power and this often means satisfying their needs in the short term. We know from research that if you want to reduce poverty and inequality there are a lot of structures that you need to put in place which require a long-term approach. In developing countries like Ghana a lot of people rely on agriculture and if you want to transform people's lives then that's where sustained investment needs to go. But chasing voters often means a more short-term focus on providing visible consumables.
Ghana is a classic example of a country that benefited from debt relief in 2006, found oil in 2007 and then five years down the line it has one of the worst performing currencies in the world. That has a lot to do with the imperative to win elections and not using resources in a long-term way.
There has always been a desire for social and economic transformation amongst elites in Ghana. Right from independence there was a narrative of African renaissance and African identity. That became an ideology and foundation for pushing industrialisation which has continued. We are still one of the largest producers of cocoa in the world and the desire for transformation is there. But that is competing with a short-term agenda to stay in power.
What are your research findings on how to achieve long- term goals within a context of competitive elections?

My research is looking at oil as the catalyst. How can you develop a trade-off where you use oil revenues to push long-term investment, while using tax and other revenues to achieve short-term goals. There are initiatives like cash transfers that will visibly impact on poverty reduction and give you the political capital you need, whilst focusing on the long term too. I believe in democracy. I think the country should remain democratic, so it's finding ways to get better development outcomes within that system. But it means we have to get the politics right, that's the challenge.
What do you do in your spare time?
I enjoy a good movie, preferably something funny. I always like good company too, preferably with a bottle of good wine and I could talk about politics and development forever! I'm a political animal and get very agitated about injustice. I like learning from interacting with people from different cultures. A lot of the things people worry about are the same, wherever you come from.
Ghana is always in my heart. There's a vision I have about the kind of society I want my children to live in and I want to be able to create that. I really want the country to succeed and my long-term future is always Ghana.
For more on Kojo, visit his researcher profile.