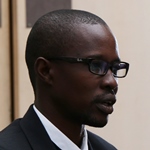 Role
Angelo is an independent researcher involved in research on Uganda's oil sector.
Research
Research interests include extractives, governance and minorities; extractives and regional security; political settlements and oil.
ESID publications
Angelo is currently providing research support to Prof Sam Hickey on the comparative Ghana/Uganda study of political settlements in newly oil-producing African nations. He is specifically working on understanding Uganda's oil players and energy sector contracts, including their oil footprint.
Hickey, S.,  Abdulai, A.-G., Izama, A. and Mohan, G. (2015). 'The politics of governing oil effectively: A comparative study of two new oil-rich states in Africa', ESID Working Paper No. 54. Manchester.
Hickey, S. with Bukenya, B., Izama, A. and Kizito, W. (2015). 'The political settlement and oil in Uganda', ESID Working Paper No. 48. Manchester.
Other roles
Angelo is also a Ugandan journalist and blogger.
Further information
Read Angelo Izama's blog.
View his articles on African Arguments.
Listen to Angelo discussing natural resource management in Uganda: