Researching the politics of development
Blog

Revisiting the developmental state – New SPERI paper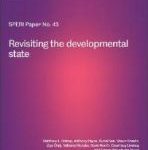 8 February 2018
Sheffield Political Economy Research Institute (SPERI) are pleased to announce a new SPERI paper edited by Matt Bishop and Tony Payne on 'Revisiting the developmental state'. Originally published as a blog series late last year, the paper brings together a number of eminent experts on the subject: Kunal Sen (ESID's Joint Research Director), Shaun Breslin, Ziya Öniş, Valbona Muzaka, David Booth, Courtney Lindsay and Henry Wai-chung Yeung.
The notion of a 'developmental state' is a key concept in the political economy of development. It refers, broadly speaking, to a type of state which intervenes purposefully to distort markets in the pursuit of economic upgrading and productive transformation.
This is not anti-capitalist, but neither is it about free markets. It is rather about shaping markets to achieve developmental ends, something that typified the experience of the so-called 'Asian Tigers' in the 1970s. The simultaneous failure of neoliberal free market fundamentalism to deliver rising living standards in the West and the contrasting success of high levels of intervention in China, especially, have reignited interest in the concept.
Yet a range of unanswered questions persist, and the authors whose work is showcased in the new SPERI paper offer pithy, incisive accounts of key points of controversy and debate. These include:
the relationship between the state and market;
whether authoritarianism is a key characteristic of such states;
the extent to which developmentalism is still plausible under contemporary forms of globalisation;
the kinds of strategies that different interventionist states deploy;
why some of these countries have been more successful than others; and, crucially,
the dragon in the room that is China and its developmentalist implications for the global economy.

Matt Bishop is Senior Lecturer in International Politics at the University of Sheffield and Tony Payne is
Professorial Fellow at SPERI. Together they co-lead SPERI's research programme on 'Development and the Governance of a Globalising Political Economy'.
Download SPERI Paper No. 43: 'Revisiting the developmental state' (pdf).