Researching the politics of development
Projects

Oil, governance and inclusive development in Ghana and Uganda
Objective
This study examines the implications of the recent oil finds in Ghana and Uganda.
Cases
Ghana and Uganda have been selected as they present very strong grounds for comparison, both in terms of the political settlements and institutions involved, and also the level and nature of the oil finds and (emerging) sector in each case, which can offer some instructive similarities and differences.
Research questions
How does the type of political settlement. and its dynamics in particular contexts. shape the governance of oil, and how has/will oil reshape the political settlement?
How do different ideas about development shape the use of oil and what impact does oil have on the political imaginaries of key actors?
What are the transnational and national-local dynamics involved here?
What are the implications for inclusive development?
Methods and research design
Within the comparative case-study approach, the two case studies employ a similar-enough methodological approach, in order to allow comparisons between them. The research is framed in terms of five conceptual levels:
Figure 1: Conceptual framing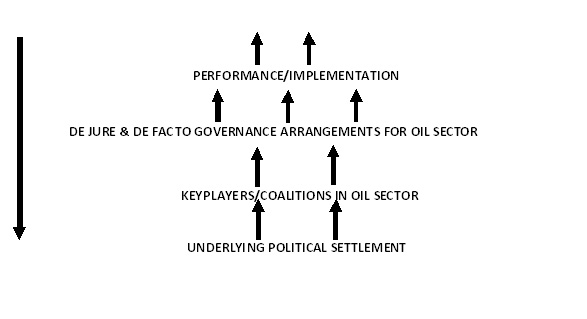 The main methods used are qualitative, involving key informant interviews across all stakeholders and content/discourse analysis of key documents. Some quantitative work is undertaken, such as tracking revenue flows and using existing survey work. The study also draws on Afrobarometer findings on oil and gas industry.
How does this project fit within ESID's research agenda?
This is the second of two distinct but related projects on natural resources (NR), the other being 'The politics of natural resources and inclusive development'. Focused on two ESID countries, this study falls within ESID's work on political settlements.
Researchers:
Publications
Journal article
Giles Mohan, Kojo Pumpuni Asante and Abdul-Gafaru Abdulai (2017). 'Party politics and the political economy of Ghana's oil'. New Political Economy 23(3): 274-289.
ESID working papers
Ishmael Ayanoore (2018). 'The politics of local content legislation in Ghana'. ESID Working Paper 104.
Sam Hickey, Abdul-Gafaru Abdulai, Angelo Izama and Giles Mohan (2015). 'The politics of governing oil effectively: A comparative study of two new oil-rich states in Africa'. ESID Working Paper 54.
Giles Mohan and Kojo Pumpuni Asante (2015). 'Transnational capital and the political settlement of Ghana's oil economy'. ESID Working Paper 49.
Sam Hickey with Badru Bukenya, Angelo Izama and William Kizito (2015). 'The political settlement and oil in Uganda'. ESID Working Paper 48.
Ricardo Hausmann, Brad Cunningham, John Matovu, Rosie Osire and Kelly Wyett (2014). 'How should Uganda grow?'. ESID Working Paper 30.
ESID briefing paper
The politics of governing natural resources in Ghana: Towards inclusive development? ESID Briefing 15.