Researching the politics of development
People

Dr Benjamin Chemouni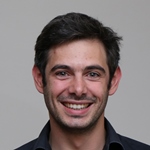 Role
Dr Chemouni is a Assistant Professor at Université Catholique de Louvain, and a Leverhulme early career fellow at the University of Cambridge. He is the country researcher for ESID's Public Sector Reform project in Rwanda and works on the politics of health coverage in Rwanda for the project The political economy of social protection expansion in Africa.
Research
Benjamin is interested in the origins of effective states and the relationship between elites, their perception of their environment and the origins of institutions. His PhD research is seeking to explain the variation of state effectiveness (i.e. capacity to implement policies) between Burundi and Rwanda through the lens of the health and agriculture sectors. Elite vulnerability and their strategy to seek legitimacy are used as explanatory factors.
Benjamin is the country researcher for Rwanda in ESID's project on comparative public sector reform in Ghana, Malawi, Rwanda and Uganda. This project is centered on the political economy of reform in the sectors of public sector planning, civil service management, public finance, auditing, and anti-corruption.
ESID publications
Chemouni, B. (2019). 'The rise of the economic technocracy in Rwanda: A case of a bureaucratic pocket of effectiveness or state-building prioritisation?'. ESID Working Paper No. 120. Manchester.
Chemouni, B. (2017). 'The politics of core public sector reform in Rwanda'. ESID Working Paper No. 88, Manchester.
Chemouni, B. (2016). 'The political path to universal health coverage: Elite commitment to community-based health insurance in Rwanda'. ESID Working Paper No. 72. Manchester.
Recent publications
Chemouni, B. (2017) 'Taking stock of Rwanda's decentralisation: changing local governance in a post-conflict environment', Third World Thematics: a TWQ Journal 1(6): 763-778. Special issue on 'Post-conflict reconstruction and local government'.
Chemouni, B. (2014). 'Explaining the design of the Rwandan decentralisation: elite vulnerability and the territorial repartition of power', Journal of Eastern African Studies 8(2): 246-262. Special Issue on 'Rwanda under the RPF: Assessing twenty years of post-conflict governance'.
On the blog
WATCH: Benjamin Chemouni on the state of things in Burundi
Towards universal health coverage in Rwanda?
Public sector reform in Rwanda is driven by a legitimation strategy
Why such a commitment to public sector reform in Rwanda?
Further information
See Benjamin's LSE profile.