Objective
This project analyses whether 'new' approaches to public sector reform (PSR) centred on leadership, social accountability or policy adaptation are more likely to bypass some of the recurrent shortcomings of conventional 'Weberian approaches', which are often blamed for the seeming failure of the PSR agenda over the past two decades.
Cases
The project will compare the evolution of public sector effectiveness (in mandate and in practice) in Ghana, Malawi, Rwanda and Uganda since the turn of the century. These four countries have been selected for their marked variation in the aggregate trajectory of their public sectors since the early 2000s, as registered for example in the Worldwide Governance Indicators: Ghana started from a higher level of effectiveness and yet registered little improvement; Malawi registered some improvement; Rwanda showed remarkable improvement; and Uganda, if anything, showed a slight worsening.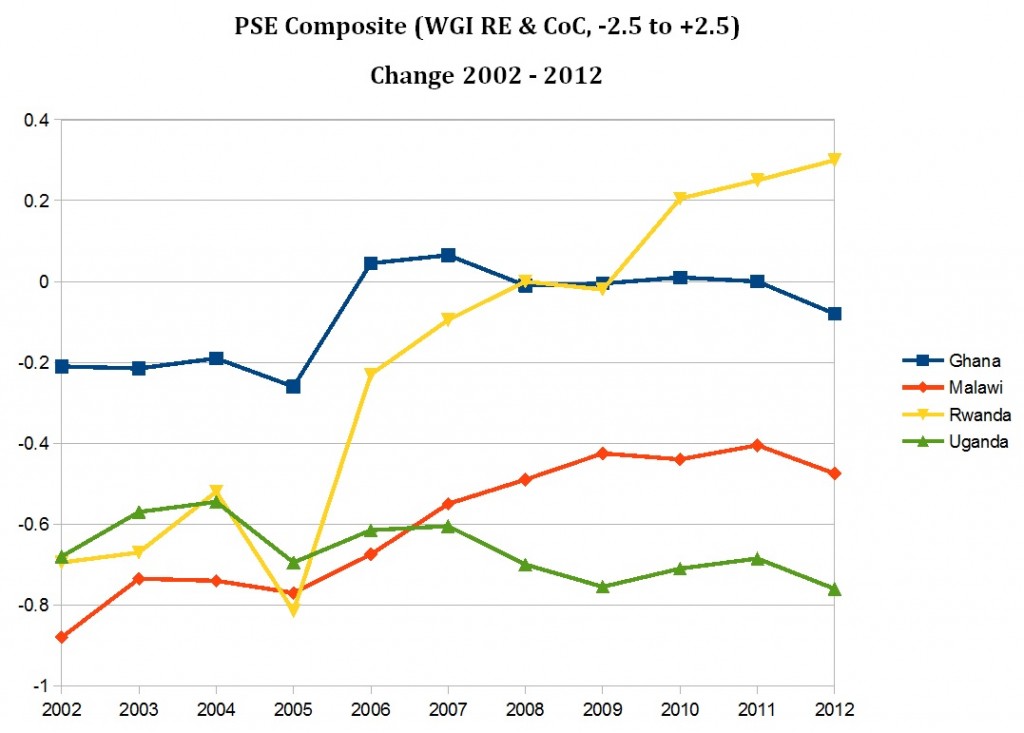 The likely explanation for these variable trajectories of public sector reform cannot be reduced to any single, macro-social independent variable: for instance, Rwanda and Uganda are both assumed to have dominant-party political settlements, yet their contrast in PSR could not be starker; similarly, if aid dependence was to be blamed for institutional failure, then Rwanda should have exhibited a more limited improvement. Instead, it is necessary to delve deeper into the causal processes linking explanation and outcome within and across five public sector nodes or core country systems: public sector planning; public/civil service management; public finance management; oversight; and anti-corruption.
Research questions
How do different approaches to PSR (leadership, social accountability, policy adaptation, Weberian administration) impact the effectiveness of core public sector nodes?

How do different approaches interact with each other?
Do different approaches to PSR promote competence and integrity to the same extent?
How do external and internal factors interact for each approach to public sector reform?

How does the type of political settlement interact with each approach to public sector reform?
Methods and research design
The methodological approach of this research project will be causal process tracing within a structured-focused comparison of a total of 20 cases: five PSR nodes in four countries. The distribution of cases allows for two case comparison strategies:
Within-country comparisons: A focus on each country will allow us to explore how different approaches have been used in the same local context. This strategy will illustrate the analytical contrasts between PSR approaches.
Cross-country comparisons: A focus on each PSR node will allow us to explore how different local contexts influence functionally equivalent instances of reform. This strategy will illustrate the analytical contrasts between political settlements.
The analytical narratives for each country will be based for the most part on primary sources, both documentation (public and internal) and semi-structured interviews, from core public organisations as well as non-governmental and donor organisations in each country.
How does this project fit within ESID's research agenda?
This project is explicitly aligned with some of the central ESID goals, such as identifying the determinants of state effectiveness, exploring the underlying sources of elite commitment, linking material and ideational factors, as well as bridging the internal-external divide.
Researchers
Publications

Badru Bukenya and William Muhumuza (April 2017). 'The politics of core sector public reform in Uganda: Behind the façade'. ESID Working Paper 85.
Daniel Appiah and Abdul-Gafaru Abdulai (March 2017). 'Competitive clientelism and the politics of core public sector reform in Ghana'. ESID Working Paper 82.
Matt Andrews and Lawrence Bategeka (November 2013). 'Overcoming the limits of institutional reform in Uganda'. ESID Working Paper 27
Badru Bukenya and Pablo Yanguas (October 2013). 'Building state capacity for inclusive development: The politics of public sector reform'. ESID Working Paper 25.
Badru Bukenya (June 2013). 'Are service-delivery NGOs building state capacity in the global South? Experiences from HIV/AIDS programmes in rural Uganda'. ESID Working Paper 22.
Closing the gap between form and function: A new approach to institutional reform in Uganda. ESID Briefing Paper 2.
Henry Chingaipe, 15 January 2015 blog: 'Researching the politics of public sector reforms in Malawi'.
Badru Bukenya, 2 March 2015 blog:  'Undertaking PSR research in Uganda'.
Benjamin Chemouni, 17 February 2015 blog: 'Why such a commitment to public sector reform in Rwanda?'
Pablo Yanguas, 31 March 2014 blog: Designing ESID's research on Public Sector Reform.