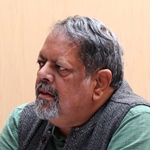 Role
Sundar is an advisor for the Society for Promotion of Area Resource Centres (SPARC).
Research
He is working on ESID's urban poverty project, focussing on the Jawaharlal Nehru National Urban Renewal Mission (JNNURM) project in India.
Other roles
Sundar is a former IAS officer. He is also interested in the residential, occupational and social vulnerabilities of the urban poor.
Further information
Watch Sundar discussing the importance of academic research for NGOs.
Sundar Burra explains why academic research is important for NGOs from BWPI on Vimeo.