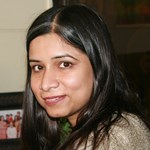 Role
Sohela Nazneen is a Research Fellow in Gender and Sexuality at the Institute of Development Studies (IDS) (Sussex, UK), and formerly Professor of International Relations at University of Dhaka, and a Lead Researcher at the Center for Gender and Social Transformation (CGST) at BRAC Institute of Governance and Development Institute (BIGD), BRAC University (Bangladesh).
Research interests
Professor Nazneen's research mainly focusses on institutional analysis of gender, particularly in the areas of governance, rural and urban livelihoods and feminist movements. She completed her PhD on the gendered nature of NGO accountability relations from IDS in 2008.
ESID research
Sohela is currently leading a comparative research project that seeks to understand the relations between women's inclusion in politics and their influence on education policy and domestic violence legislation in selected South Asian and sub-Saharan African countries for the ESID Research Programme Consortium at the University of Manchester. The research partners are: BRAC Institute of Governance and Development (BIGD); Center for Basic Research (CBR), University of Makarere; Center for Democracy and Development (CDD), University of Ghana; YWCA Rwanda and Dr Jennie Burnet based at University of Louiseville (US).
ESID publications
Nazneen, S. and Masud, R. (2017). 'The politics of negotiating gender equity in Bangladesh'. ESID Working Paper No. 76.
Nazneen, S. and Mahmud, S. (2012). 'Gendered politics of securing inclusive development'. ESID Working Paper No. 13.
Working Paper 13 is a systematic review of women's inclusion in politics and their influence in policymaking. Sohela and Simeen (Mahmud) also co-authored a book chapter titled 'The gendered politics of securing inclusive development' in S. Hickey, K. Sen and B. Bukenya (eds.) (2014), The Politics of Inclusive Development: Interrogating the Evidence (New York: Oxford University Press).
Other recent publications
Nazneen, S. (2017). 'Negotiating Gender Equity in a Clientelist Context: The Role of Informal Networks in Bangladesh', in G. Waylen ed, Gender and Informal Institutions, Rowan and Littlefield.
Hassan, M. & Nazneen, S. (forthcoming) 'Violence and the Breakdown of the Political Settlement: An Uncertain Future for Bangladesh', Conflict, Security and Development.
Guest-edited a special issue on 'Researching Women's Empowerment' for Women's Studies International Forum Journal, (Volume 45, 2014).
Sohela is co-editor of 'Voicing Demands: Feminist Activism in Transitional Contexts' (Zed Books: London, 2014).
Other roles
At CGST/BIGD, she is co-Principal Investigator on an ESRC-funded project that explores women's labour market participation. She serves as the co-lead of the South Asia Regional Secretariat for Women Parliamentarians (SARSWAP). She also serves as the focal point for the network on women's unpaid care work (in collaboration with IDS, UK and SMERU, Indonesia and Actionaid International), which seeks to build alliances, develop policy asks around care needs of women, and promote them in national and international fora. At present, Sohela and her colleagues are planning to hold a photo competition and exhibit on men undertaking unpaid care work in Bangladesh.
Further information
*See Sohela's profile at IDS.
*Hear Sohela discuss the role of women's rights organisations in advocating for change on the Guardian Global Development podcast.
*Watch Sohela discuss how gender issues affect policy implementation: