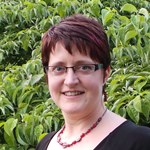 Role
Jennie E. Burnet is Associate Professor of Global Studies and Anthropology, and Associate Director of the Global Studies Institute at Georgia State University in the United States. For ESID, she is leading research in Rwanda on the Gender and the Political Settlement project.
Research
Jennie's research focuses on the long-term consequences of genocide and violent conflict, and women's roles in peacebuilding and politics.
ESID publications
Jennie E. Burnet and Jeanne d'Arc Kanakuze (2018). 'Political settlements, women's representation and gender equality: The 2008 gender-based violence law and gender parity in primary and secondary education in Rwanda'. ESID Working Paper No. 94. Manchester.
Further information
For more on Jennie's work, visit her GSU profile, and her personal website.