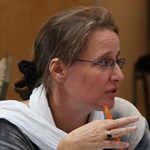 Role
Marja Hinfelaar is the Director of Research and Programs at the Southern African Institute for Policy and Research (SAIPAR) and lead researcher for ESID's politics of natural resources project in Zambia.
Research
Marja is a historian and political analyst, having published on the 2008 elections in Zambia in African Affairs and coordinated a longitudinal study on political party dynamics at the constituency level in the run-up to the 2011 elections. She has been resident in Zambia since 1997.
ESID publications
Hinfelaar, M. and Achberger, J. (2017). 'The politics of natural resource extraction  in Zambia'. ESID Working Paper No. 80. Manchester: Effective States and Inclusive Development Research Centre, The University of Manchester.
Other projects
Co-editing a book on Zambian politics and elections.
Researcher and Zambia coordinator for 'Valueworks: Effects of Financialization along the Copper Value Chain'.
Other roles
Marja is on the Advisory Board of the Journal of Southern African Studies (JSAS), UK; Founder and Editor at the Lembani Trust publishing house; and Editor of the Zambia Social Science Journal (ZSSJ).
Further information
Visit SAIPAR's website.