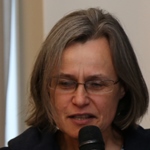 Role
Diana Mitlin is Professor of Global Urbanism and Managing Director at the Global Development Institute at The University of Manchester. Diana coordinates ESID's capacity-strengthening activities and is leading the urban poverty project in India.
Research
Diana's main research issues are urban inequality and poverty, state and civil society shelter policies, particularly related to the upgrading of information settlements, grassroots organisations and community development, and civil society. Her ESID project addresses state interventions to reduce urban poverty in India and the influence of civil society on such interventions.
ESID publications
Burra, S., Mitlin, D. and Menon, G. with Agarwal, I., Banarse, P., Gimonkar, S., Lobo, M., Patel, S., Rao, V. and Waghmare, M. (2018). 'Understanding the contribution of the BSUP (JNNURM) to inclusive cities in India', ESID Working Paper No. 97, Manchester.
Mitlin, D. (2014). 'Politics, informality and clientelism – exploring a pro-poor urban politics', ESID Working Paper No. 34. Manchester.
'Exciting research findings on how to make a difference to the lives of the urban poor in India' (ESID blog, 5 November 2015).
'Universal access to sanitation requires a revolution in understanding' (ESID blog, 28 September 2015).
Other recent publications
Mitlin. D. and Satterthwaite, D. (2013). Urban Poverty in the Global South: Scale and Nature. London and New York: Routledge.
Satterthwaite, D. and Mitlin, D. (2013). Reducing Urban Poverty in the Global South. London and New York: Routledge.
Other roles
At present Diana is a trustee for the Urban Poor Fund (Netherlands). She continues to work closely with two networks of Southern citizen networks and NGOs, Shack/Slum Dwellers International (SDI) and the Asian Coalition for Housing Rights.
Further information
View Diana's staff profile.