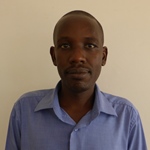 Role
Amon Ashaba Mwiine is an Assistant Lecturer at Makerere University (Uganda).
Research
Amon is a researcher on ESID's Gender and the political settlement project in Uganda. He is also engaged in doctoral research examining the role of men in parliament, which interrogates the legislative systems that produce gender, power and privilege in politics.
Publications
Ahikire, J. and A. A. Mwiine (2020). 'Gender equitable change and the place of informal networks in Uganda's legislative policy reforms', ESID Working Paper No. 134, Manchester.
Ahikire, J. and A. A. Mwiine (2015). 'The politics of promoting gender equity in contemporary Uganda: Cases of the Domestic Violence Law and the policy on Universal Primary Education', ESID Working Paper No. 55. Manchester.
ESID blog, 25 November 2015: 'Why is domestic violence legislation falling short in Uganda?' by J. Ahikire and A. A. Mwiine.
Other roles
Amon is also a UNDP-accredited Gender Auditor and a Research Associate at the Center for Basic Research, Kampala.
Further information
View Amon's Academia.edu profile.