Researching the politics of development
Projects

The politics of state-business relations
Objectives
This project aims to understand the nature and consequences of business-state interactions, through exploration of the politics of these relations, and documentation of the variety of mechanisms in which it plays out. This is used to assess the welfare consequences for both economic drivers of business dynamics and further influences on political functioning and state behaviour.
Cases
This project is developing a conceptual and methodological approach to frame research in India, South Africa and potentially other developing countries. To the extent that it draws on country experience, it relies primarily on India; this will be extended in the future.
Research focus
Features of 'success' and 'failure'.
Political, business and societal structure.
Resolutions and mechanisms.
Variation across sectors, firms and subnational polities: heterogeneity and interactions.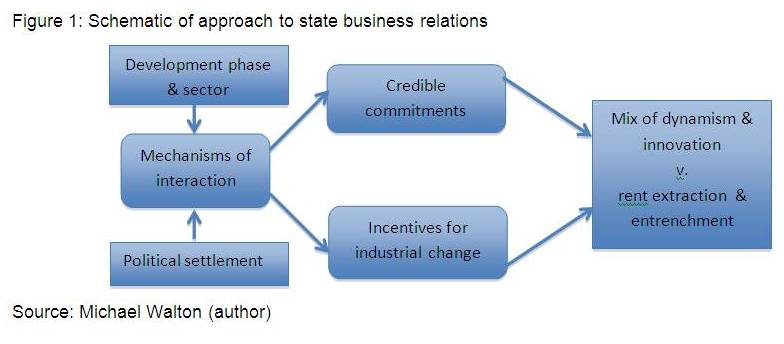 Research structure
This project has four building blocks:
An assessment of the extent to which state-business relations in a country (or sector or region) are functional, in terms of outcomes;
Description of the formal and informal organisational features of both state and business actors, including connections across networks;
Interpretation of the mechanisms of interaction between state and business – what they are, why they work; and
Analysis of sectoral variation and inter-sectoral interactions.
Methodology and methods
The research is grounded in country cases, with descriptive, and historically informed, documentation being used to interpret mechanisms, with inter-sectoral variation supporting econometric analysis. The country-level research has two complementary tracks, which could also be developed in country comparisons:
a)    Descriptive and econometric analysis of corporate behaviour. In the case of India, the Prowess database is a useful source, as it is based on firm-level data, and has information on both firm and sectoral characteristics.
b)    Case studies: history and patterns, for example, building a database on networks of connections between politicians and business activity and documenting the patterns and mechanisms of interaction.
Policy implications
There are three domains of potential policy implication, which will be further developed in later stages of the project:
Overall drivers of state-business relations.
Specific designs affecting business dynamics where there is political room for manoeuvre.
Complementary measures to capture surpluses and channel these into public goods and social provisioning, and to foster an efficient social democracy, that is both affordable and manages distributional conflict, as opposed to patronage and populism.
How does this project fit within ESID's research agenda?
This project contributes to the ESID research programme by describing a conceptual and methodological approach for exploring the politics of state-business relations in developing countries.  This will be developed to frame research in India, South Africa and other developing countries within ESID's overall research programme.
Researchers:
| Role | Name | Location |
| --- | --- | --- |
| Project Leader | Brian Levy | University of Cape Town, South Africa, and Johns Hopkins University, USA |
| Lead Researcher | Michael Walton | Harvard University, USA and New Delhi, India |
Publications
Alan Hirsch and Brian Levy (2018). 'Elaborate scaffolding, weak foundations: Business–government relations and economic reform in democratic South Africa'. ESID Working Paper 105.
Erol Taymaz and Kamil Yilmaz (2017). 'Political economy of industrial policy in Turkey: The case of the automotive industry'. ESID Working Paper 90.
Pratap Bhanu Mehta and Michael Walton (2014). 'Ideas, interests and the politics of development change in India: Capitalism, inclusion and the state'. ESID Working Paper 36.