Researching the politics of development
Blog

Spotlight on Sam Hickey and the forthcoming ESID Flagship International Conference – From Politics to Power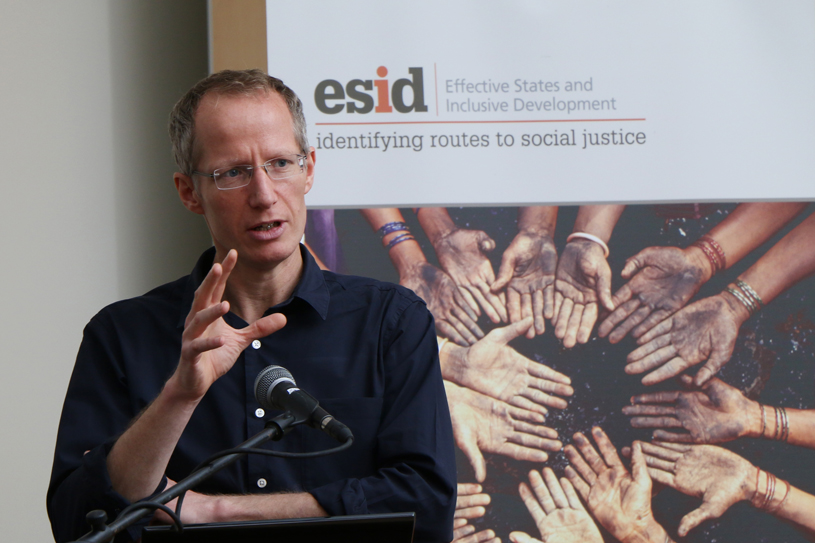 6 September 2019
Please can you tell us about your role with ESID and how it came about?
I have been ESID's Joint Director of Research since 2010, working for most of this period with Professor Kunal Sen, until he left to take up the leadership of United Nations University UNU-WIDER in Helsinki in 2018. Kunal is an economist with particular expertise in South Asia, while I'm a political sociologist who works mainly in sub-Saharan Africa. Working alongside David Hulme (ESID CEO), Julia Brunt (ESID's Director of Operations) and a great team of colleagues at Manchester and beyond, we submitted a successful application to the UK's Department for International Development in 2010 for a research programme consortia on Effective States worth £6.25 million. Once the first six years were up, we were encouraged to apply for further funding and gained a further £3 million for 2017-2020. Our research seeks to identify the political drivers of inclusive development, and has been undertaken in over 16 countries in the Global South, with a network of researchers based in sub-Saharan Africa, South Asia, Latin America, Europe and North America.
Next week ESID is hosting its Flagship International Conference, showcasing its research into the politics of development. Please can you tell us about the impact the research is having, and how this will be shared at the conference?
ESID's closing conference will bring the world's leading scholars on the politics of development to Manchester and the idea is to place their work into conversation with the research that we have been producing over the past nine years. Plenary speakers such as James Robinson, Merilee Grindle and Lant Pritchett have had a profound influence on development theory and practice, and helped to ensure that politics is taken increasingly seriously by both academics and policy actors. ESID's own research has made a considerable impact already, including through a prolific publications record. We have published 11 books, most of which are open-access and with Oxford University Press, over 20 journal papers and well over 120 working papers: all are available via our website. ESID's work has directly informed governments (e.g. India, Uganda) and also the world's leading development agencies, including the World Bank, the Department for International Development (DFID) and UNICEF, and helped ensure that development interventions are directly informed by an understanding of how politics shapes the capacity and commitment of elites to deliver development.
What do you hope ESID's legacy will be?
I'm hoping for three main outcomes: the first would be that we help to consolidate the focus on politics as a central driver of social justice within development theory and practice, and offer scholars some new conceptual approaches that can help guide future work in the field. We know that many PhD students and also development agencies have used our conceptual frameworks to shape their work, so we're optimistic on this front. Second, we'd like to see policy actors within international development continue to take on board our key messages in ways that support their efforts to reduce poverty and promote development. Our excellent communications team, led by Anna Webster and with support from the Global Development Institute's (GDI) Chris Jordan and Emma Kelly, have been great at getting our messages to wider audiences. Finally, it has been a real privilege to work with so many excellent researchers from the Global South within ESID, some of whom trained as PhD students at the Global Development Institute before returning home to work in universities in countries such as Bangladesh, Ghana and Uganda. I hope that the experience that they have gained with ESID will lead them to become the next generation of research leaders on the politics of development.
If you could visit anywhere in the world, where would you go and why?
If time travel were an option, I would love to go back to the era of late colonialism and independence in either Ghana or Uganda. An incredibly exciting time that continues to shape politics in both countries today. There, or wherever England are playing cricket against Australia…!