Researching the politics of development
People

Prof Alan Hirsch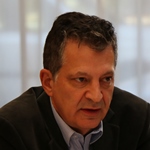 Role
Alan Hirsch is a Professor and Director of the Graduate School of Development Policy and Practice at the University of Cape Town.
Research
Policy and sustainable growth in Africa, specifically South Africa and Zambia. Alan is a co-author with Brian Levy and Ingrid Woolard on a paper on the distributional impact of the political settlement in South Africa. He is working on an ESID project on business and government in South Africa with Brian Levy and Deborah Posel, for a project headed by Michael Walton.
ESID publications
Hirsch, A. and Levy, B. (2018). 'Elaborate scaffolding, weak foundations: Business-government relations and economic reform in democratic South Africa', ESID Working Paper No. 105. Manchester.
Levy, B., Hirsch, A. and Woolard, I. (2015). 'Governance and inequality: Benchmarking and interpreting South Africa's evolving political settlement', ESID Working Paper No. 51. Manchester.
Other recent publications
Bhorat, H., Hirsch, A., Kanbur, R. and Ncube, M. (eds.) (2014). The Oxford Companion to the Economics of South Africa. Oxford University Press.
Hirsch, A. (2014). 'Aspirations to an elusive developmental state: The obstacles to deep reform' in Busani Ngcaweni, B. (ed). The Future We Chose: Emerging Perspectives on the Centenary of the ANC. African Institute of South Africa.
Bhorat, H. and Hirsch, A. (2013). 'The political economy of monetary policy in South Africa: real economy outcomes', in K. Dervis and H. Kharas (eds.), The G-20 and Central Banks, Brookings Institution.
Hirsch, A. (2005). Season of Hope: Economic Reform in South Africa under Mandela and Mbeki. UKZN Press and IDRC.
Other roles
Alan is also the Country Director for Zambia at the International Growth Centre at the London School of Economics.
Further information
Visit the Graduate School of Development Policy and Practice website.