New book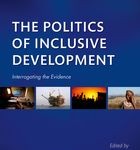 The Politics of Inclusive Development: interrogating the evidence.
ESID researchers and partners have compiled a state-of-the-art review of the politics of inclusive development. It proposes a new conceptual approach, looking at how politics shapes development across multiple dimensions, including through growth, natural resource governance, poverty reduction, service delivery, social protection, justice systems, the empowerment of marginalised groups, and the role of both traditional and non-traditional donors. Find out more…
---
Spotlight
Oil governance
How does the commodity boom in Ghana impact on the country's political settlement? Read more about ESID research on resources and accumulation and listen to Abdul-Gafaru Abdulai explain the interplay between politics and natural resources.
---
---
What is ESID?
The Effective States and Inclusive Development Research Centre is based at The University of Manchester's Institute for Development Policy and Management. It is part of the Brooks World Poverty Institute. Our research is funded by the UK's Department for International Development. Read more… 
We want to help create secure states that are more effective at, and committed to, delivering inclusive development. Download our primer to find out how we will do this, or learn more about why ESID's perspective is important.